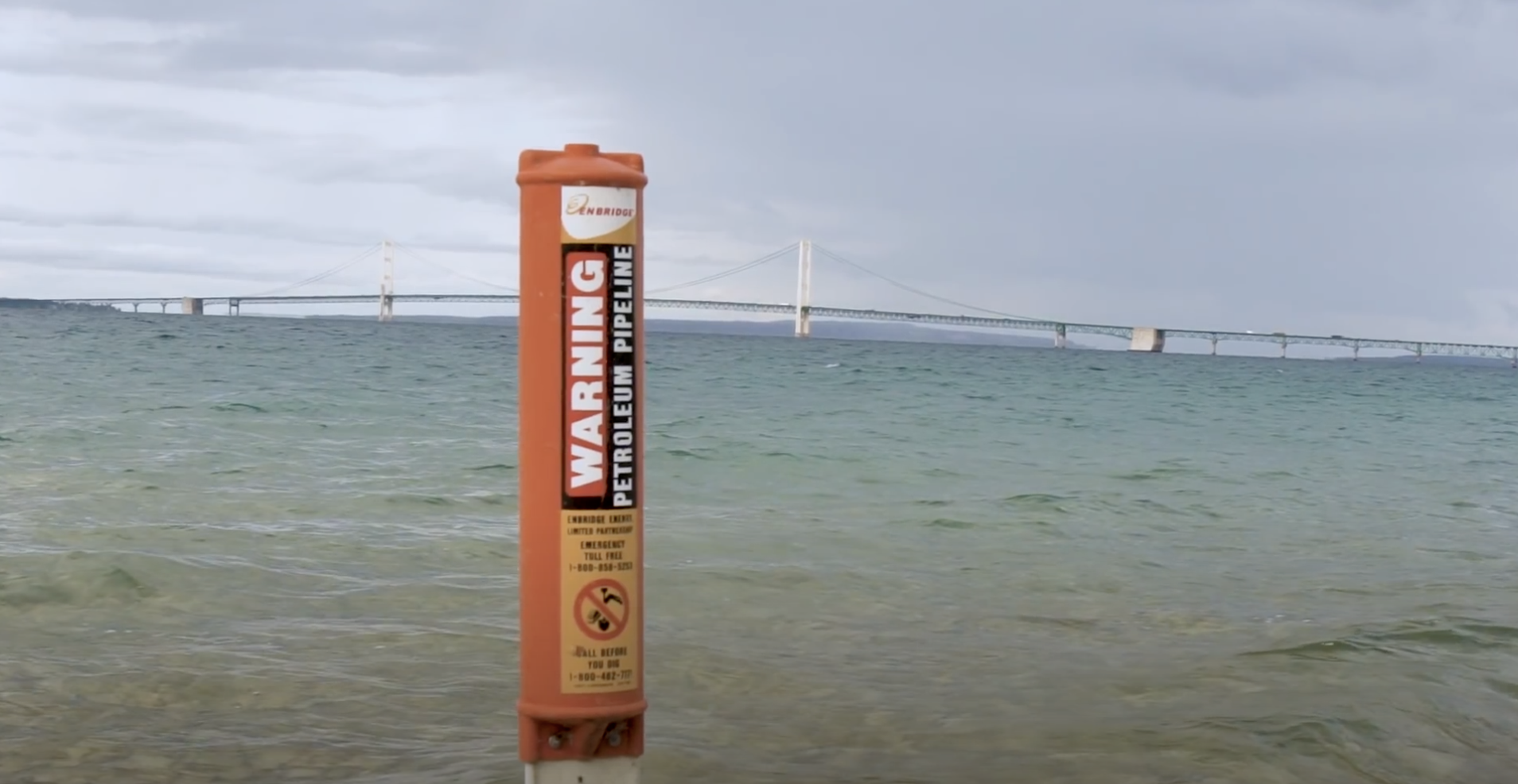 At Public Hearing Today, Opponents Request Comprehensive Study of Project's Impacts on the Great Lakes, Cite Court Decision
Editor's note: This is an Oil & Water Don't Mix (O&WDM) media release.
Twelve organizations and Michigan tribal representatives today (Dec. 7, 2020) called on the U.S. Army Corps of Engineers to reject the Enbridge Line 5 Straits of Mackinac oil tunnel project. If not dismissed now, the Army Corps risks a repeat of a July court ruling that threw out a permit in another major federal pipeline case.
In their submission of comments, the groups told the Army Corps that the permit for the tunnel should not be approved without a full review that evaluates the consequences of an oil tunnel for the Great Lakes, coastal wetlands, historic archeological finds, and navigation within the Straits of Mackinac.
"Enbridge's proposed tunnel is a major federal action demanding a full environmental impact statement under the National Environmental Policy Act (NEPA)," said Liz Kirkwood, Executive Director of FLOW (For Love of Water), a Great Lakes law and policy center based in Traverse City. "A review of Enbridge's incomplete application reveals a highly controversial project with extraordinary impacts to coastal wetlands, millions of gallons a day of surface wastewater discharges and water treatment additives, underwater archeological sites, incomplete geotechnical studies for tunnel construction, lack of a credible estimate of project cost, and unprecedented climate change impacts to extend the life of Line 5 for the next 99 years."
Official comments from the organizations come as the Army Corps holds a single public hearing today on Enbridge's proposal for a federal Clean Water Act permit to construct the oil tunnel.  The Army Corps public comment period ends on Dec. 17.  It comes as the Michigan Public Service Commission and the state Department of Environment, Great Lakes and Energy also evaluate permit applications from Enbridge and follows a decision by Gov. Whitmer to revoke Enbridge's operating agreement for the existing Line 5, citing the company's history of failures and ongoing, incurable violations of the agreement.
"Line 5 will transport 540,000 barrels of oil that when burned will emit over 57 million metric tons of atmospheric carbon annually – more carbon than is emitted by the nation's three largest coal plants combined," said Kirkwood.  "Let's not forget what's at stake – a proposal to build a mega tunnel in the heart of the largest and most valuable fresh surface water system in the world.  It's difficult to conceive of a project more worthy of a full environmental impact statement under federal law."
The groups and tribal representatives warn that approving Enbridge's proposed application would violate the same federal law that prompted the U.S. District Court in July to block a final permit for the Dakota Access pipeline in the Dakotas.  In the Dakota Access case, the court said the Army Corps must conduct a full review under the National Environmental Policy Act because it was a major federal project with widespread potential impacts, including threats to drinking water sources for the Standing Rock Sioux tribe.
The Army Corps has yet to decide whether Enbridge's permit application for the tunnel should be subjected to a full federal review that could include looking at other alternatives, including existing oil pipelines within Enbridge's massive North America pipeline system.
Concerns with the tunnel proposal cited by the groups and shared with the Army Corps include:
Drinking water threat. Enbridge proposes withdrawing 4 million gallons a day of water and discharging 5 million gallons a day of water and slurry into the Straits of Mackinac. Nearby communities of Charlevoix, Mackinac Island, St. Ignace, Alpena, East Tawas, and Tawas City rely on Lake Michigan and Lake Huron for drinking water.
Geotechnical problems. Independent experts who studied Enbridge's proposed tunnel plan concluded that it "raises serious concerns regarding the feasibility, integrity, and planning for the construction of the tunnel."  More than 75 percent of the tunnel boring area is in "very poor" or "poor" quality rock conditions, the experts warned, also citing the potential for explosions because of the presence of methane gas.
Sovereign tribal and fishing rights. The Straits of Mackinac are the spawning and fishing grounds for 60 percent of the commercial tribal whitefish catch, which could be negatively impacted by the tunnel project and continued operation of Line 5 in the Straits.
Northern Michigan economy. Emmet, Cheboygan, and Mackinac counties would be heavily impacted by the tunnel project, straining police, fire, health emergency services, and rental housing that would typically go to seasonal tourism workers who constitute an annual $153 million payroll. Dust, noise, and intense trucking and machinery activity will also stress local communities.
"Michigan deserves more than a rubber-stamp permit approval from the Army Corps," said Sean McBrearty, Oil & Water Don't Mix coordinator.  "What we need is for the Army Corps to follow the law and prioritize protecting the Great Lakes, our drinking water, and our climate. A Canadian company's oil profits shouldn't be more important than Michigan's future."
Those submitting joint comments include For Love of Water (FLOW), League of Women Voters of Michigan, Sierra Club, Clean Water Action, Michigan Environmental Council, Northern Michigan Environmental Action Council, Straits of Mackinac Alliance, Groundwork Center for Resilient Communities, TC350, the Chippewa Ottawa Resource Authority (CORA), the Michigan League of Conservation Voters, and the Straits Area Concerned Citizens for Peace, Justice, and the Environment.
Oil & Water Don't Mix is a citizens' movement committed to protecting the Great Lakes and decommissioning Enbridge's dangerous Line 5 oil pipelines in the Straits of Mackinac. More information: https://www.oilandwaterdontmix.org/about.