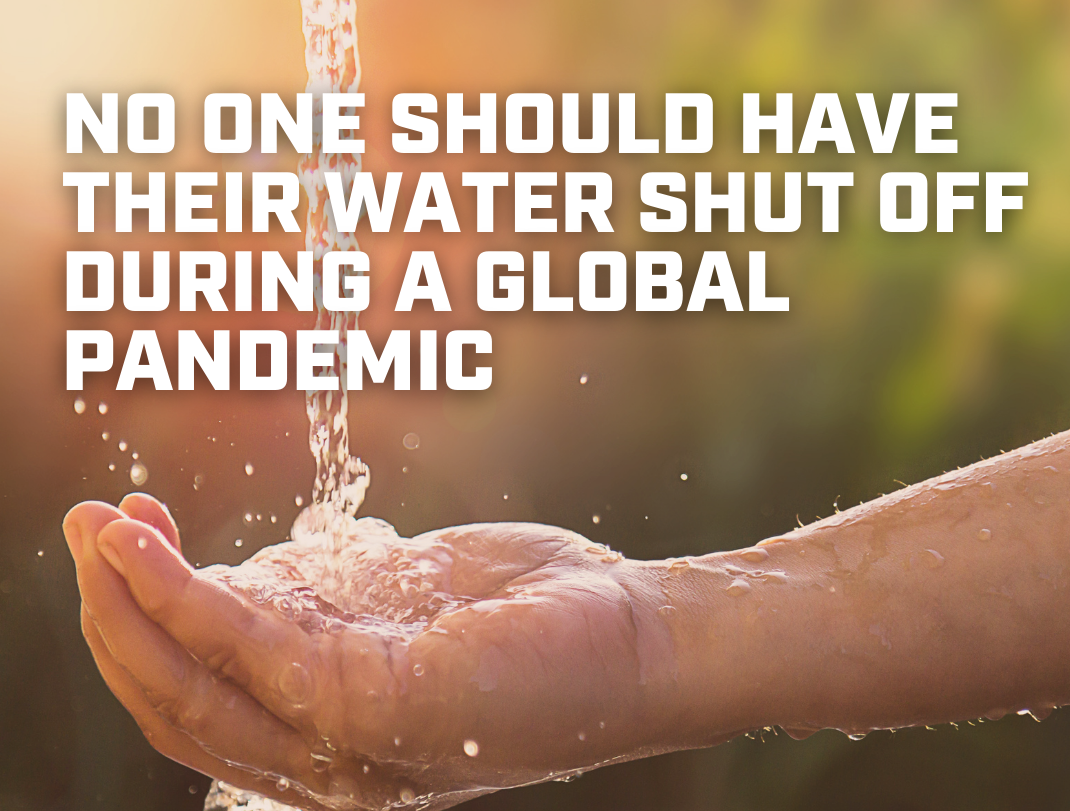 Photo by Michigan League of Conservation Voters. This article is excerpted from FLOW's newly released 2020 Annual Report. Click here to read our 2020 Annual Report to see what we accomplished together last year, thanks to your support. 
Across Michigan and the United States—in both cities and small towns—residential water rates have skyrocketed. An exclusive report found that in 12 diverse U.S. cities, the combined price of water and sewage increased by an average of 80 percent between 2010 and 2018. This water affordability crisis is especially acute and painful during the COVID-19 pandemic, when public health officials are stressing the importance of handwashing and sanitation generally.
Take Action Today!
Tell your lawmaker to extend Michigan's water shutoff moratorium, which is scheduled to end on March 31. Extending the moratorium is a critical public health measure. State Senator Stephanie Chang has introduced legislation, Senate Bill 271, that would assure no water service shutoffs for residents of Michigan cities until June 30, 2021. But to make this effective, the Legislature must act quickly.
During World Water Week in August 2020, former executive director of the Detroit Health Department Abdul El-Sayed told FLOW that "not everyone gets to take (water access) for granted. It accentuates the fact that water is life. Public health started in the moment when we realized how to keep people from drinking polluted water and to make sure that the water they drank was clean and pure."
The federal government used to lend a hand and help Americans turn on their faucets. Despite rising capital needs, the U.S. government's contribution to water infrastructure spending has fallen over the past 30 years from 63 percent of total capital spending in 1977 to nine percent in 2014. In terms of per capita spending on water infrastructure, federal spending has fallen from $76 per person to $11 per person during that time, according to the Congressional Budget Office. That trend has left local utilities to raise the money that is needed to upgrade water infrastructure, comply with standards for toxic contaminants like PFAS, lead, and algal blooms, and adapt to extreme weather conditions linked to climate change, like drought and floods.
Water shutoffs in Michigan's cities—including Detroit, Flint, and Benton Harbor—impacting large numbers of residents rightfully command the headlines and generate movements for moratoria, but the water affordability crisis is real in rural Michigan as well. Data collected by the Michigan Department of Environment, Great Lakes, and Energy (EGLE) as part of efforts to ensure the restoration of water services to all Michigan households during the coronavirus pandemic indicate that more than 1,600 households in rural counties were without water due to shutoffs for nonpayment at the onset of the pandemic in early 2020.
FLOW is exploring these issues through our work on water infrastructure and equity and calling for more state and federal funding sources for water infrastructure to relieve the burden on residential ratepayers. Drawing partly on the concept and framework of the Michigan Natural Resources Trust Fund, our Public Water, Public Justice model legislation would affirm the state's public trust duty to protect access to safe, clean, and affordable water for the people of Michigan. It also would create a dedicated fund to support water affordability and water infrastructure, with revenues generated from the collection of royalties on water bottling operations.