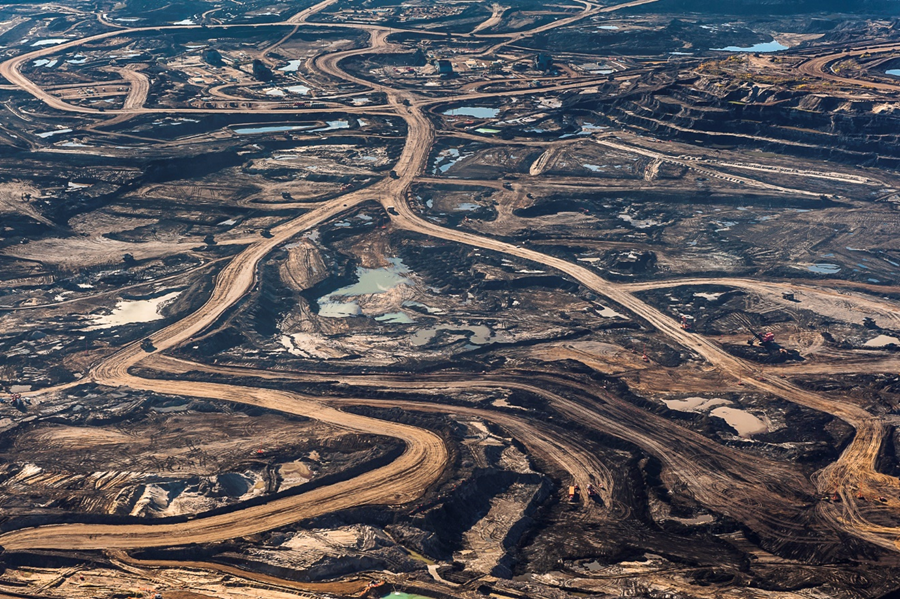 Photo: The Alberta tar sands. Source: Garth Lenz
By Skip Pruss
FLOW Legal Advisor Skip Pruss formerly served as chair of FLOW's board of directors and as director of the Michigan Department of Energy, Labor, and Economic Growth.
Some 800 miles north of the Montana border, past vast prairie grasslands, clear, untroubled lakes, and pristine boreal forests, lies a place of profound devastation and desolation. Just north of Fort McMurray in Northeast Alberta, Canada, one encounters an abrupt alteration of the landscape—a ravaged wasteland of disturbed lands and metallic lakes of oil-sheened process waste. 
Welcome to the place where bitumen—a thick, viscous, oil-containing soil having the consistency of coffee grounds—extracted for later upgrading and refining into tar sands oil, is ultimately destined to cross the Great Lakes watershed by pipeline.
This miasma of environmental ruin lies proximate to the confluence of five rivers—the Clearwater, the Christina, the Hangingstone, the Horse, and the Athabasca—the last designated as a Canadian Heritage River for its historical and cultural significance. 
Visible from space, the Alberta tar sands have been labeled "the largest and most destructive industrial project in human history."  The oil-sheened tailing ponds, unlined and vulnerable to breach in heavy rains, cover 220 square kilometers. The Guardian reports that, "A failure of a single tailings dyke could result in contaminated waterways from Alberta's Athabasca region through to the Arctic Ocean, that would make even the Exxon Valdez disaster look mild by comparison." 
Effacing Nature
It is here, in Alberta, where primordial forces endowed the region with vast underground seams of bituminous sands.  The deposits are a mixture of sand, clays, water, and bitumen from which oil can be extracted. Unlike conventional oil wells, where pumps or underground pressure brings oil to the surface, extracting oil from sands and clay requires a series of processing steps and vast amounts of energy.  
The two methods of extracting tar sand oil involve in-situ treatment—a process of heating the bitumen with steam pumped under high pressure underground to extract the oil or strip mining the bitumen when the deposits are closer to the surface. In situ extraction is more energy intensive, yielding more greenhouse gas emissions.  Strip mining uses about 10 times as much water as in situ processing.
Both methods of bitumen extraction are energy intensive, resulting in cumulative greenhouse gas emissions from the extraction, processing, and transportation, 4-5 times greater than emissions attributable to the production of conventional oil. More recent scientific measurement efforts indicate that CO2 emission intensities attributable to tar sands mining are much larger than those previously reported.
Pipelines to the Great Lakes
An elaborate two-way system of pipelines stretching across the continent has been constructed to deliver Alberta's tar sand oil to refineries for additional processing. After the extraction process, raw bitumen's high viscosity is resistant to flow. To pump it through pipelines, it must be diluted with a thinning agent—typically natural gas condensates produced from other oil and gas wells that are transported by pipelines to Alberta. The "diluents," once blended with the bitumen, yield a substance called "dilbit," which is then upgraded to crude oil and pumped by pipelines for further refining.
Enbridge pumps heavy tar sands oil through Line 6B (recently renamed Line 78) across southern Michigan enroute to Sarnia, Ontario, while Enbridge Line 5 carries light crude oil and light synthetic crude upgraded from dilbit through the Straits of Mackinac and eventually also to Sarnia.
Pipeline failures are routine. In the last two decades alone, the Pipeline and Hazardous Materials Safety Administration (PHMSA) reports more than 12,500 pipeline incidents resulting in $10 billion dollars in damages and almost 1,500 injuries and fatalities. Accidents involving dilbit are particularly problematic.
It was the catastrophic failure of Enbridge's pipeline 6B that poured more than 1.2 million gallons of dilbit from the Alberta tar sands into into Talmadge Creek, a tributary of the Kalamazoo River, sickening more than 300 people, permanently driving more than 150 people from their homes and properties, and destroying wildlife and habitat. The disaster scarred the landscape and left oily residue to this day.  Following the spill, the volatile hydrocarbon diluents evaporated, leaving the heavier bitumen to sink in the water column, vastly complicating remedial efforts to remove the tar sands crude from the environment. The investigation following the massive spill by the National Transportation Safety Board found "pervasive organizational failures" within Enbridge, including deficient integrity management procedures and inadequately trained personnel.
"This investigation identified a complete breakdown of safety at Enbridge. Their employees performed like 'Keystone Kops' and failed to recognize their pipeline had ruptured and continued to pump crude into the environment."

— Deborah A.P. Hersman, former NTSB Chairman
Crossing the Great Lakes
By any objective measure, the Great Lakes are a magnificent and unique natural endowment—the most valuable freshwater system on earth, harboring 84 percent of all fresh surface water in North America and 95 percent of all fresh water in the United States. The Great Lakes Region, home to 40 million Canadian and U.S. citizens, constitutes the 3rd largest economy in the world with an annual GNP exceeding $6 trillion.
Line 5, Enbridge's 68-year old pipelines, cross in the open waters of the Straits of Mackinac, the intersection of Lakes Michigan and Huron. Line 5 has a record of recurrent failure, with 33 separate leaks of over 1.1 million gallons of oil reported by PHMSA since 1968—roughly the same amount as Enbridge's 2010 spill into the Kalamazoo River watershed. Dispersion modeling by the University of Michigan has shown that a Line 5 failure could spread crude oil and irreparably damage more than 700 miles of U.S. and Canadian coastlines, and thousands of square miles of open water and aquatic resources, wreaking billions of dollars of economic and environmental havoc on property owners and coastal communities. 
The vulnerability of Line 5 to a catastrophic accident could not be more clear. Due to strong, alternating currents that flow both east and west under the Straits, the bottomlands have eroded under multiple stretches of the pipelines.
Enbridge has responded to the pervasive lakebed scouring and erosion with a media blitz that glosses over the endangered conditions and patchwork of incremental, remedial actions that have now elevated approximately 3 miles of the pipelines over the lakebed using over 200 saddle anchors as supports. The new configuration has made the pipelines vulnerable to rupture or failure from anchor strikes and cable drags from ships navigating the narrow, busy shipping lane in the Straits.
A Catastrophic Accident Is Inevitable   
Predictably, the pipelines have been repeatedly struck by wayward anchors from passing vessels. An anchor strike in April 2018 gashed and dented the pipelines. The most recent impacts to the pipeline, discovered last year, severely damaged a pipeline support and was likely attributable to vessels under contract to Enbridge that were conducting pipeline maintenance and geophysical work for an ill-conceived, replacement tunnel proposed to house the pipelines.
The reality is that maritime accidents do happen. Great Lakes freighters have been known to lose power, have steerage failures, or drop anchors unexpectedly. In the narrow Straits of Mackinac, high vessel traffic and the proximity of the Mackinac Bridge may require ship captains to drop anchors unexpectedly to avoid collisions with the bridge or other vessels. In such circumstances, the navigation hazard of the now elevated underwater pipelines is an afterthought.
Line 5—An Unacceptable Risk
Enbridge is rolling the dice every day on Line 5 in the Great Lakes. The fact that Enbridge hasn't already had a catastrophic rupture of the pipeline is sheer, dumb luck. A Line 5 oil spill could deliver a more-than $6 billion blow in economic impacts and natural resource damages to Michigan's economy and could trigger a domino effect of damage disrupting Great Lakes commercial shipping and steel production, slashing jobs, and shrinking the nation's Gross Domestic Product by $45 billion after just 15 days, according to a study commissioned by FLOW and conducted by ecological economist Robert Richardson of Michigan State University.
Seven years ago, then Michigan Attorney General Bill Schuette commented that the Enbridge Line 5 underwater pipelines presented an unacceptable risk, stating that "you wouldn't site, and you wouldn't build and construct, pipelines underneath the straits today." Yet Enbridge continues to operate the aging  pipelines in direct defiance of an order from Governor Gretchen Whitmer to shut them down.
The bottom line is that the grim and appalling environmental and economic legacy that is the Albertan tar sands now presents the greatest threat to the Great Lakes, the world's largest and most valuable fresh surface water system. Enbridge is using its considerable economic and political clout to maintain an imminent risk and clear and present danger to coastal communities, the region's globally unique coastal shorelines, as well as to the health and economic vitality of the entire region.   
Protection of public water for present and future generations is a categorical imperative. Line 5 must be shut down now.