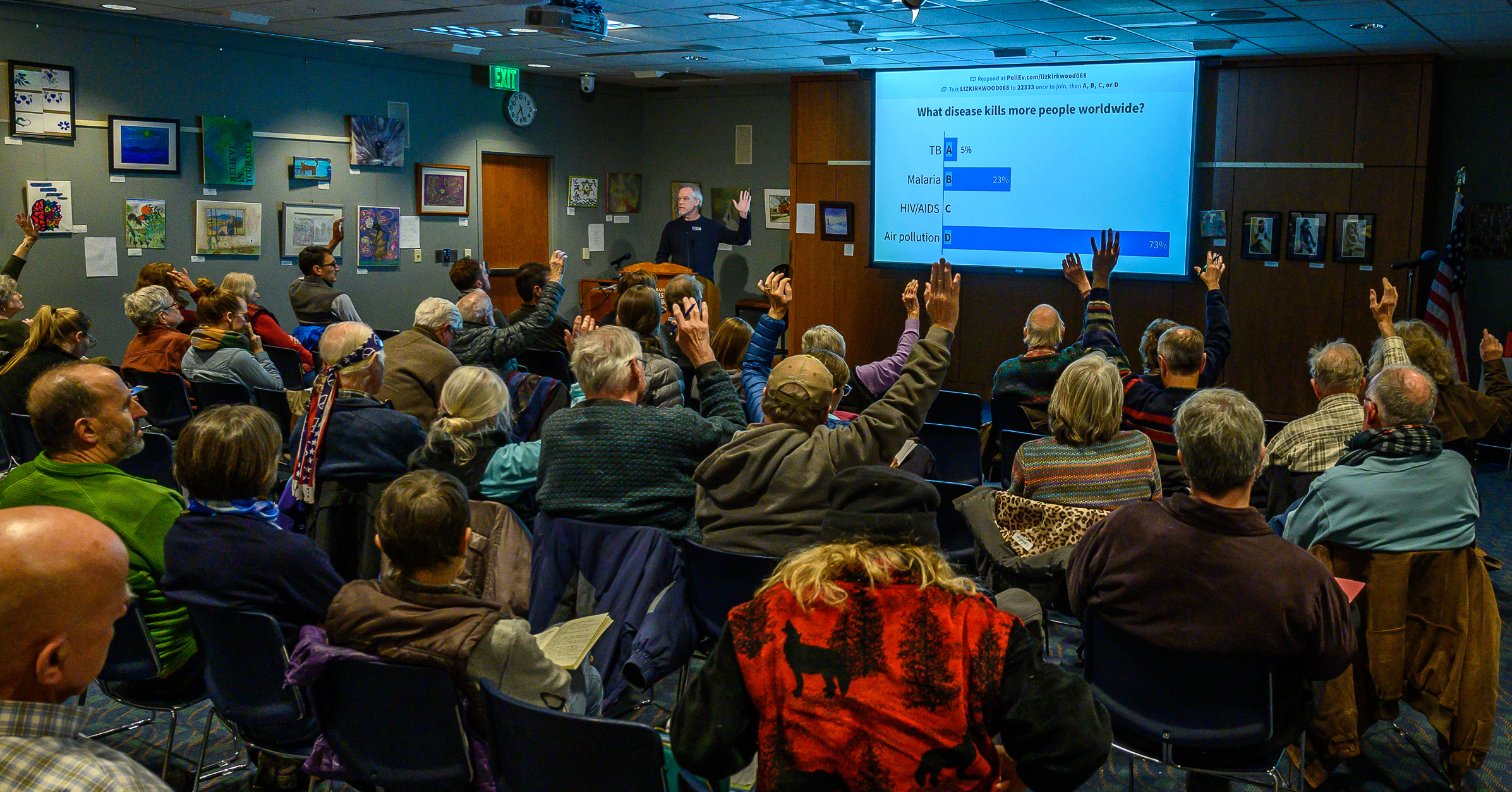 FLOW hosts community engagement sessions on government's role in protecting human health and the environment
Photo by Rick Kane
By Diane Dupuis
Do environmental regulations hinder or help the economy?
That question framed FLOW's community engagement session on November 13 in Traverse City examining the role of government in protecting human health and the environment. Presenters included Cherry Republic founder and environmental steward Bob Sutherland and former FLOW board chair Skip Pruss, who has authored three "Resetting Expectations" reports for FLOW that make the case for government regulations to protect the environment.
Surgical pathologist and climate activist Lisa Del Buono, FLOW Executive Director Liz Kirkwood, and Senior Policy Advisor Dave Dempsey also presented on the importance of governmental protections. (Click here to see slides from the presenters and here to watch a recording of the event).
FLOW will hold a second Resetting Expectations community engagement session on December 5 in Grand Rapids. Click here to RSVP; the event is free, but seating is limited.
Community members who attended the Traverse City session were able to interact throughout the series of presentations by responding via text or web app to questions projected intermittently. Residents of Northwest Michigan are well versed in matters affecting the Great Lakes Basin, yet the session presented familiar concepts in new ways, as well as altogether new perspectives.
Kicking off the presentations, Cherry Republic's Bob Sutherland noted that in December his cherry-themed retail-and-catalog operation will give away $250,000 in profits, mostly to environmental organizations. "My giving comes from my trust in society, in people's ability to make the world better," Sutherland said.
"I trust in my neighbor," he continued, but "it's just a trickle in the bucket. We need to get the trust back in our government to establish better rules and regulations. As a businessman, I wish that my competitors were operating with the same principles that drive me to continuous improvement in how we treat the environment."
"Wouldn't it be great," Sutherland mused, "if every company was working on clean water and protecting our land? That's where government regulations come in. We have a future in building trust here. Let's start a movement in getting a fair and continuously improving level playing field for business."
Skip Pruss, former director of the Michigan Department of Energy, Labor, and Economic Growth, cited a United Nations study that estimated the value of nature-based services at $60 trillion globally and $18 trillion in North America. As an example, wetlands are among the most biologically productive areas on Earth, Pruss noted, yet Michigan has lost more than 4 million acres of wetlands to development and drainage, worth billions of dollars in lost functions such as water filtration, flood and erosion control, wildlife habitat, human recreation, and food supply.
In terms of cost-benefit analysis, the Clean Air Act generated economic benefits valued at $2 trillion, while the compliance costs to business were $65 billion; benefits exceeded costs by a factor of 43-to-1, Pruss explained.
Of all the water on Earth, only 3% is fresh water. Of that 3%, only 0.30% is surface water. So only .09% of the entire world's water is fresh surface water. The Great Lakes contain more than 1/5 of this extremely scarce resource.
Dave Dempsey, senior policy advisor at FLOW, focused his presentation on Michigan's groundwater, depended upon for drinking water by 45% of Michigan residents. Dempsey identified multiple threats to Michigan's groundwater, including failing septic systems, nitrates from agricultural practices, and contamination from both closed and ongoing sites. Over the last 24 years, Dempsey revealed, Michigan's taxpayers have been burdened with more than $1 billion in costs to remedy "orphan" contamination sites (sites where the polluter is not picking up the bill).
Regarding the contaminant PFAS, Dempsey noted that Michigan's Department of Environment, Great Lakes, and Energy (EGLE) has proposed one of the most health-protective PFAS drinking water standards in the country. However, a new state committee controlled by business interests may delay the proposed state drinking water standard for PFAS. Meanwhile this group of chemicals, called "forever chemicals" because they can remain in the human body for years, is linked to a raft of adverse effects on human health, Dempsey said.
Presenting next, Lisa Del Buono, MD, discussed public health and the environment. Del Buono revealed that, according to the American Lung Association, the Clean Air Act has saved $22 trillion by avoiding hospital admissions, emergency room visits, premature deaths, and other adverse effects of air pollution. In 2012 alone, Del Buono noted, 10 climate-sensitive events analyzed by GeoHealth caused an estimated $10 billion in health-related costs. With most economists agreeing that carbon-pricing is the quickest way to reduce the costs and health risks of carbon pollution, Del Buono concluded, a bipartisan climate solution has been introduced as legislation in Congress as the Energy Innovation and Carbon Dividend Act, HR763.
Next, Liz Kirkwood, Executive Director of FLOW, praised the Great Lakes Restoration Initiative, a federal program that has funded 3,500 restoration projects around the basin, with an economic output of $3.35 for every dollar invested. Kirkwood then outlined a new FLOW initiative, "OUR20 Communities," in which the relevance of water as a finite resource fundamental to life is recognized in every aspect of community decision-making. Collaborative solutions in the OUR20 model are developed by the communities themselves, and address multiple threats to water while building champions and coalitions involving stakeholders in transportation, food production, energy, recreation, housing, and more.
Kirkwood outlined the legal framework—The Public Trust Doctrine—that underpins the OUR20 Communities model, and described a sustainable "blue economy" in which the environment, the economy, resilience, and social equity are intertwined. She noted that the future is in the hands of millennials, 81% of whom view business success as tied to meaningful social impact. And more businesses, she said, are choosing to be seen as a force for good by emphasizing people and planet as well as profit.
As an example of a nature-based solution to support infrastructure, Kirkwood pointed to the Kids Creek Restoration Project in Traverse City, coordinated by the Watershed Center Grand Traverse Bay. Looking at the potential of adopting the OUR20 Community model in Traverse City, Kirkwood proposed future action plan ideas for the Grand Traverse Bay watershed, including a plastics pollution awareness campaign, septic system stewardship and local ordinances, stormwater funding options, and more.
Kirkwood explained that every community in the Great Lakes can become an OUR20 Community. The framework, she said, puts more tools in the toolbox — tools that allow for flexible thinking as each community defines how we move forward together with solutions that keep water in the forefront of conversations and action steps. "These are opportunities to engage," she concluded, on something we all agree about: the vital importance of water in our communities.
FLOW will hold a second community engagement and listening session on December 5 in Grand Rapids. Click here to RSVP.
Diane Dupuis is FLOW's Development Director.